The full story of Spectra Wood
1969 Spectra Wood began as a hobby in the basement workshop of the family home more than thirty-nine years ago. Larry Roeshot and his son, Doug, used basic woodworking tools to make cutting boards, chess boards, turn candleholders and craft other small wooden giftware. The family decided to sell these hand made pieces at the local Pennsylvania Arts Festival, www.arts-festival.com. The hand made wooden giftware was so popular that all the products sold on the second day of a three-day festival.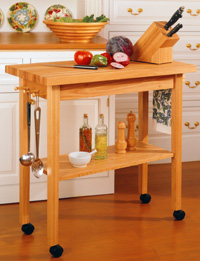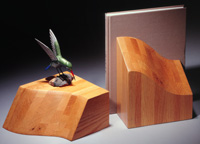 1972 This experience led to more tinkering in the basement and more involvement from the family. The family Airstream trailer was sold and the proceeds were used to purchase more sophisticated tools and woodworking machinery. In addition, several local craftspeople were hired to produce wooden giftware. This was also the first year, Spectra Wood started to attend gift shows in New York, Chicago, and Atlantic City. When customer interest grew rapidly, so did orders for Spectra Wood giftware.
1974 As the business grew, more sophisticated woodworking equipment was acquired, the product line. The introduction into small furniture pieces had begun with much success and it was decided to continue in this new area. Property along Carolean Industrial Drive was acquired and the first building was erected. Due to the increase of business, Larry resigned in the fall of 2004 from the Pennsylvania State University and to give the business his full attention. Rita Roeshot handled all the financial and sales & marketing aspects of the business.
1977 In June of 1997, Spectra Wood was leveled by a lightening fire that even killed two cows in the neighboring field above the building. Everything including the building was destroyed. Support from customers, friends, the church, and the local State College community helped Spectra Wood find the energy, resources, and strength to rebuild.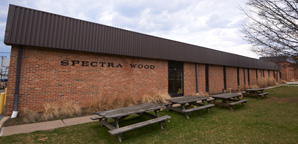 1985 The third building on our current property is constructed, Spectra Wood moves into the 16,000 square foot shipping and factory store. The factory store was opened to offer local customers the opportunity to purchase fine products that were shipped all over the country. In addition, one of kind prototypes, overstocks, and slightly mishandled products were offered in the factory store.
1996 Diana and Andy Friberg, the youngest daughter and son in law of Larry & Rita Roeshot, join the family business by returning to State College, PA. This second generation ensures Spectra Wood will continue to produce solid wood furniture for years to come.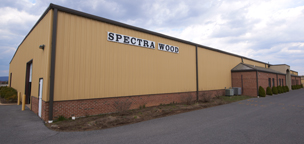 2001 Fall of 2001, adjacent land was acquired next to the original property and a fourth 45,000 square foot manufacturing building was completed. The new facility doubled the manufacturing space.
2008 Construction of a new 10,000 square foot finishing building and 5,000 square foot shipping addition was started. The new facility helped streamline production and enabled all buildings to be under one roof, and to evolve as a world class lean furniture manufacturer.
2012 Spring of 2012, construction of a new 8,000 square foot shipping addition will be started. The new facility will help in streamlining our production, enabling the current finishing and shipping department to be under one roof and enable us to continue to evolve as a world class lean manufacturing of solid wood furniture.
Currently, we produce solid wood office furniture for universities, libraries, and businesses as well as solid wood home furnishings that are distributed through national retailers and mail order catalogs across the United States and Europe.
As Spectra Wood continues to grow, Spectra Wood continues to invest new equipment and technology as well as seeking education and training programs to help us to continue to improve all aspects of the business while we maintain our reputation of providing quality products at a fair price.